Doxycycline Hcl
Short Description: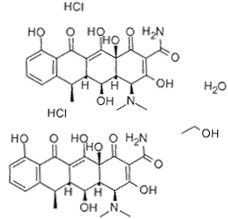 CAS No.24390-14-5
Chemical Name:Doxycycline hyclate
SynonymsDoxycycline Hc1;Doxycycline API;Doxycycline hyclate;DOXYCYCLINE HYDRATE;Doxycycline Hyclate USP;Doxycycline hyclate COS;Doxycycline hyclate, BP;Doxycycline Hydrochlocide;DOXYCYCLINE HYCLATE USP GRADE;Doxycycline Hyclate (200 mg)
CBNumber:CB6136567
Molecular Formula:C22H26N2O9
Formula Weight:462.45
MOL File:24390-14-5.mol
Port: Any port of China
Payment Terms: L/C,D/A,D/P,T/T
Product Detail
Product Tags
Doxycycline hyclate Properties
Melting point:206-209?C (dec.)
alpha:D25 -110° (c = 1 in 0.01N methanolic HCl)
RTECS:QI8925000
storage temp:Store at +4°C
solubility H2O:soluble50mg/mL
form:Yellow to yellow-green crystalline solid
color:yellow to greenish-yellow
Water Solubility:Soluble in water to 50mg/ml. May require warming.Soluble in water, methanol. Sparingly soluble in ethanol. Insoluble in chloroform and ether.
Merck:14,3440
BRN:5702728
SAFETY

Hazard and Precautionary Statements (GHS)

Code

Hazard statements

Hazard class

Category

Signal word

P-Codes

H302

Harmful if swallowed

Acute toxicity,oral

Category 4

Warning

P264, P270, P301+P312, P330, P501

H315

Causes skin irritation

Skin corrosion/irritation

Category 2

Warning

P264, P280, P302+P352, P321,P332+P313, P362

H319

Causes serious eye irritation

Serious eye damage/eye irritation

Category 2A

Warning

P264, P280, P305+P351+P338,P337+P313P

H335

May cause respiratory irritation

Specific target organ toxicity, single exposure;Respiratory tract irritation

Category 3

Warning

H361

Suspected of damaging

Reproductive toxicity

Category 2

P201, P202, P281, P308+P313, P405,P501
---
Previous:
Dihydrostreptomycin Sulphate
---